Virtual Tours of Annapolis and Anne Arundel Heritage Sites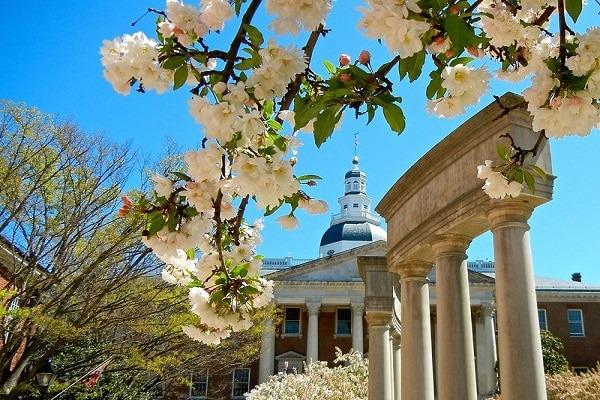 As everyone knows, yesterday was Maryland Day, a holiday commemorating the formal founding of the colony of Maryland. Normally, the Four Rivers Heritage Area celebrates with events at our partner sites throughout Annapolis and southern Anne Arundel County. Although we weren't able to mark the occasion as usual this year, here are some sites that remain accessible to us through virtual tours.
Enjoy!
Maryland State House
The beautiful Maryland State House is the oldest state capitol in continuous legislative use and is the only state house ever to have served as the nation's capitol. The State House is where the Maryland General Assembly convenes for three months each year, and the elected leadership of the state all have their offices here. Exhibits feature three centuries of legislative history, and Department of Legislative Services has created a 3D Virtual Tour of the State House so we can explore from home.
Naval Academy Chapels
The chapel spaces onboard the US Naval Academy have a rich history and heritage in and of themselves.  Since 1845 the spiritual development of the Academy's midshipmen has been a significant part of what has set them apart as leaders in our Navy and Marine Corps.  Take a moment and tour the chapels and see how this development has formed and shaped midshipmen in the past and continues to do so today.
Naval Academy Cemetery
The Naval Academy Cemetery and Columbarium is a record of the United States Naval Academy. The U.S. Naval Academy Museum's Senior Curator and Historian, Mr. Jim Cheevers, gives us a tour of the Naval Academy Cemetery on Hospital Point.  This film is just under one hour.
Historic London Town's Gardens
Springtime means flowers, and Historic London Town House and Gardens features diverse horticultural experiences every season. Even if you can't visit in person, this video will take you on a soothing walk along a waterfront trail in their Woodland Gardens.
Visit Annapolis and Anne Arundel County
No one knows how to lead a tour better than our friends at Visit Annapolis and Anne Arundel County. Their official editorial site, Annapolis Discovered, is the place where the stories of Annapolis are told by the locals that know it best.  Their guides will take you on a tour of historical sites throughout the county. Recent features include the Four Rivers African American Trail with a special visit to Galesville, the Banneker-Douglass Museum, the Thomas Point Shoal Lighthouse, and many more!
Visit Annapolis can also take you on a visit to the United States Naval Academy or let you join a family exploring the United States Naval Academy.
Do you have a favorite local virtual tour to share? Contact us at [email protected]. Thanks!